5 Tips for Being a Great Work at Home Parent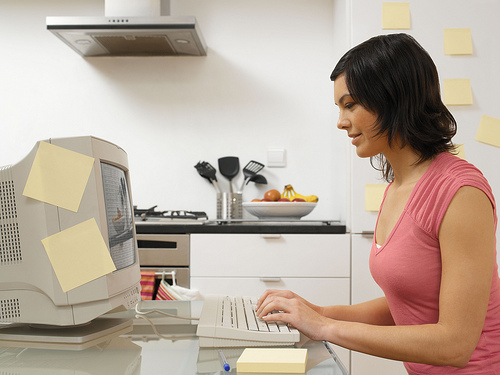 Working from home can simultaneously feel like the best and most difficult job situation. It's great to have flexibility, but it can also be tough to separate work and family. Here are a few tips on how to strike the proper balance when working from home.
Set time to unplug every day – and stick to it!
When you work from home, you may often feel your work pulling at you, even when you're supposed to be spending quality time with your spouse and kids. You may find yourself checking email from your phone when you're helping your kids with their homework. Or perhaps you end up running late to after school activities because you need "just one more minute" on the computer.
Try setting a few hours every day to turn off (really) the phone and your computer. The hours between school and dinner, or between dinner and bedtime, are a great time to do this. This time will allow you to focus on your family without distraction!
Pick one day to run errands outside the house
If your work situation allows it, try to designate one weekday to tasks you need to complete outside the house. When you try to run errands or volunteer at your children's school more than one day per week, even if it's just for a short time, you return home each day having to play catch up. It can be hard to slide back into your work routine when you have to leave the house for 2 hours in the middle of the day. By stacking all of your errands or outside commitments into one day, it frees up the other four days for solid, uninterrupted work time.
If you're not able to designate one day to run errands or volunteer, try to do your errands in the afternoon, after you've completed your most important work projects for the day and before you pick up your kids from school.
Establish a solid morning routine
Parents and kids alike can benefit from a consistent morning routine. If you must work in the morning, try to get it all done before your kids wake up, so that you can turn your focus to preparing them for school. Set your kids' wake up time early enough that they have plenty of time to eat breakfast, get dressed, and ready themselves for the day. Less stress and rushing when it's time to head out the door can make for a better day for everyone.
Prepare food ahead
It's easy to fall into the trap of working right up until dinnertime and then realizing it's too late to cook a big dinner. Crockpots and make-ahead foods are your friend! Fix something in the morning to cook all day, or set aside a few hours on the weekend to meal plan and do advance prep on any meals you'll make during the week.
Use a reminder or calendar system
Try as we might, we cannot remember everything and every place we need to be and when. Set up a reminder system for yourself so you don't forget those must-do events and tasks each day. Your smartphone reminder app is a great way to go, because you can also set up alarms and alerts to remind you of your reminders! If gadgetry is not your thing, use whatever you're comfortable with – a good old paper calendar and pen still gets the job done!
Put some of these tips to work today. You'll be on the road to attaining better work-life balance and being a great work at home parent.
Photo Credit: Flickr Victor1558
5 Tips for Being a Great Work at Home Parent