Hot Topics In The Community
Sara McTigue
Sara McTigue is a secret agent, cupcake chef, award winning author, photographer, and PTA mom. At least, that is how things look in her mind. When she isn't testing the bounds of her imagination, she is a mom to three amazing and hilariously funny children, wife to a charming and handsome man, and thoroughly addicted to reading.
With a BS in English Education and an MA in English Literature, words – and their ability to shape our lives and thoughts – are an everyday fascination. After several years teaching high schoolers how to think critically, write clearly, and text message during class discreetly, she was lucky enough to conceive her daughter Annabella. Suddenly there was only one student in her classroom, and she was more of a drooler than a talker. Sara parlayed her skills into work at home opportunities; creating curriculum, copy editing, and writing between marathon Dr. Seuss readings and middle of the night wakings. It was like taking an adventure in pajamas, with the chance to work in diverse industries from tourism to medical marketing.
Sara has never been particularly good at math, and somehow trying to add one more child to the family resulted in three children when the doctor announced that those two blobs on the screen were, in fact, two babies. (Those two blobs grew beautifully into Lorelei and Sawyer, who are much less blob-like now.)
She relates to Julie Andrews singing "I must have done something good" every day when she wakes. The universe seems to have aligned, and daily work and daily life are entangled in all the best ways. When she isn't reading, writing, or parenting she likes to get tipsy with friends, watch shows that make her sleep with a nightlight, and photograph life so she won't forget a second.
Friday, May 10, 2013 by Sara McTigue
Mother's Day is quickly approaching. Are you still searching for a gift for someone special, hoping to find something meaningful? The folks at Kangu.org think they have just the thing for you. After speaking with founder Casey Santiago, we tend to agree.
The basics? Kangu.org partners with health organizations around the globe to provide safe birth services to pregnant women. By collecting donations through crowdsourcing, minimal donations can lead to maximum impact for these women. The website allows you a personal view into the women served – a chance to see birth from an entirely new perspective. We were fascinated by the stories of these women and couldn't wait to hear more.
Check out what Casey had to say about the concept behind this website that is saving the lives of mothers around the world.
Mother's Day 2013 Photo Shoot Sweepstakes
Thursday, May 09, 2013 by Sara McTigue
My request – my plea – to you this Mother's Day is to get in the picture. Hand off the camera. Don't keep sending all the pictures of you to the trash can because your muffin top is showing or you can see the bags under your eyes.
Your children love YOU. They love you for the soft lap that they've curled up on for story times and cuddles. They love you for getting them to that party even though you've been sick for a week and can barely make it out of the house. They love you – and they will want those pictures.
To help encourage you to get in the frame, EverydayFamily is giving out a family photo shoot* for one lucky family.
So, want to know how to win? I feel amazingly lucky to be a part of the EverydayFamily team. I learn so much – from our articles, our bloggers, our members in the forums. I'm a better parent than I ever could have been without this wonderful group of moms. Now we're asking you to share –
How has EverydayFamily helped you to be a better mother? Simply comment with your answer below and you're entered to win!
7 Things NOT to Say to a New Mother (Plus 3 Things You Should Say)
Wednesday, May 01, 2013 by Sara McTigue
The exhilaration of having a baby is coupled with the exhaustion of, well, having a baby. In those first months even the most well-intentioned comment or question can be enough to send a new mother's emotions spinning. Here are a few suggestions for what NOT to say to a new mom (plus a few things you SHOULD say!)
Wednesday, April 17, 2013 by Sara McTigue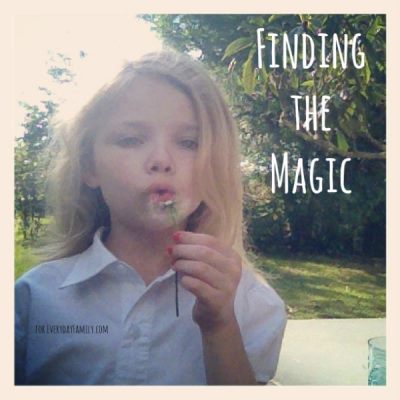 At a preschool field trip today the kids were admiring a giant, brightly colored gumball machine. The machine had lights and a spiraling path for the gumball to descend. It was stamped with the words "Magic Gumball." As the kids crowded around, the teacher asked them if they knew what the words said. "Gumball" was an easy guess, but she had to tell them the word "Magic."
One of the children immediately said, "But magic isn't real." The teacher responded, "You're right. Magic isn't real."
I wanted to cover up my children's ears. I wanted to scoop them up and run. I wanted to kneel down and look deep into their eyes and tell them "That's not true. Magic IS real. YOU are magic."
Seven Ways Parenting is Like Spring Break
Saturday, April 13, 2013 by Sara McTigue
Back in the day, spring break meant a week to hit the beach, get a little silly, and take a break from reality. In contrast, parenting is more likely to mean hitting the pediatrician, getting a lot silly, and no escape from reality. Surprisingly, the two have quite a few similarities beyond the fact that everyone seems to be half-dressed half the time.
Infertility: What You Should Know
Tuesday, April 09, 2013 by Sara McTigue
Infertility affects millions of women and their partners. These are women who WANT to get pregnant, who TRY to get pregnant, but for whatever reason – for at least 12 consecutive months – DON'T get pregnant.
Although I now am the mother to three amazing children, the journey that started it all involved a diagnosis of unexplained infertility. It took me places I never imagined going – emotionally and physically. I had spent most of my sexually active life thinking about how to avoid pregnancy – so the fact that it was suddenly avoiding me was shocking. I thought that one missed pill or broken condom meant a baby on the way; instead I learned that even dedicated charting and timing and testing didn't guarantee anything at all.
On the bumpy road that led to my daughter I learned a lot. It's not an experience I'd ever wish on anyone – it was painful and frustrating and left me feeling confused and angry for a long time. But I wished then – and wish now – that those who haven't walked that path knew a little more – enough to know a few things about how to understand a friend facing infertility and how to support a friend facing infertility.
8 Tips for Entertaining Your Infant
Friday, April 05, 2013 by Sara McTigue
Often, in those early days of infancy, in between the feedings and the changings and the sleepings, it's easy to wonder "What do I do with this baby?" Especially for caregivers who aren't familiar or comfortable with the baby phase, how to keep an infant entertained can seem a daunting challenge. After all – what can you really do with someone who can't focus their eyes, sit up on their own, or communicate their thoughts?
It's easy to overlook the fact that their limited exposure to the world is actually an advantage. Everything is new and potentially interesting, so incorporating play into your daily tasks can be rather simple. And they don't demand complicated games or stories that make sense – they just crave your presence and attention.
Here are 8 simple tips for playing with your baby.
Tuesday, April 02, 2013 by Sara McTigue
Today, April 2nd, is World Autism Awareness Day.
According to Autism Speaks, "By way of comparison, more children are diagnosed with autism each year than with juvenile diabetes, AIDS or cancer, combined." With the numbers telling us that 1 in 88 children will be diagnosed – 1 in 54 boys – it's likely that you or someone you love will be affected by autism.
With a broad range of possible causes, including genetic and environmental factors entirely beyond our control, the most effective way to handle the potential that your child is on the spectrum is through early intervention.
Life Lessons in the Frozen Foods Aisle
Sunday, March 31, 2013 by Sara McTigue
The kids and I were shopping at the grocery store last week. It was one of those trips where they all wanted to talk – at the same time. They all wanted to ride, which meant pushing one of the giant carts so that they could take turns having one of the two available seats. They were a little bit silly and a whole lot of loud. So basically, business as usual.
We wound through the crowded aisles while I tried to remember what had even brought me to the store in the first place. I threw food into the cart, hoping that when I finally managed to get home and unload I'd be able to piece the things I was buying into something that would resemble a balanced, healthy meal. The kids chattered and bickered and giggled.
We were on one of the last rows in our rotation, the freezers stocked with pizzas and ice cream on either side. The aisle was surprisingly empty, save for a store employee who was stocking the case. The kids suddenly got quiet, and they all stared toward the man working just across the aisle.
MINE! 5 Tips for Teaching Your Children to Share
Saturday, March 23, 2013 by Sara McTigue
There are many aspects of parenting where I've sort of stumbled into success, through no real talent of my own. (Well, maybe a little talent of my own!) One of those things is encouraging my children to become eager and willing to share.
My first daughter was well on her way to being a typical toddler. She'd fit right in with the seagulls in Nemo – MINE! MINE! MINE! Then Thing 1 and Thing 2 arrived right in the midst of her non-sharing universe and threw all that for a loop.
The thing with having twins (or more) is that they never know a time that doesn't involve sharing. They shared a very crowded uterus. They shared a crib and still share a bed. They share attention and time and snacks and illnesses. Basically, they are experts in sharing. And, by default, my oldest started to get with the program.
Admittedly, it was more challenging for her. She knew what it was to have toys – and parents – all to herself. She wasn't too keen on the new way of doing things. But with some encouragement along the way she embraced the idea. Now all three of my kids are stellar at sharing. If you're hearing nothing but MINE at your house, here are some tips to encourage your children to share.
Everyday Extras