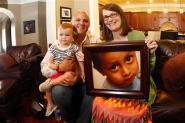 Adopting Daniel shouldn't have been this difficult; but due to a change in the Guatemalan law about five years ago, it was.
In June 2007, Ryan "Bubba" Hooker and his wife, Jess, were on a mission trip in Guatemala when they met Daniel, then 18 months old, and fell in love with him. This young boy was going to be their son. They began the process to adopt him right away, but an adoption scandal caused the Guatemalan government to declare "a moratorium on international adoptions." A system that sent "as many as 4,000 Guatemalan children a year to the United States" froze.
The adoption agency was used by many Americans and was considered one of the country's most reputable agencies. However, "an investigation exposed a system of fake birth certificates and DNA samples, of mothers coerced into giving up children. Some claimed their children were kidnapped for sale. Adoptive parents paid up to $30,000 for a child in a country where the average person earns $5,000 a year."
"Guatemalan birth parents poured into government-run centers looking for their missing children and ran ads in local papers."
"Guatemalan doctors, lawyers, mothers and civil registrars were arrested and prosecuted, with some convictions for human trafficking and adoption fraud."
"The Guatemalan government was forced to overhaul its adoption laws. The U.S. suspended all new adoptions from Guatemala."
Daniel was caught in the middle of all of this, along with 3,032 other children.
Following these irregularities and fraud, which caused the stalled adoption, Ryan and Jess endured 36 trips to Guatemala City. In between those trips, not only did Ryan turn down a job offer out of fear that it would delay things further, but the couple also moved homes, gave birth to a baby girl, spent untold amounts of money, and that 18-month-old baby boy they fell in love with became a six-year-old Kindergartner.
The process of adopting Daniel was getting harder and harder … and then, it happened.
In December 2011, Ryan and Jess received a call saying the case was ready to move forward. And on Aug. 21, eight months later, they went back to Guatemala.
This past Monday, Jess received the paper that read, "Daniel Ryan Hooker born in Quiche, Guatemala on December 2006 son of Jessica Russell Hooker and Ryan Hooker."
Last Saturday, they all came home – together.
To the Hooker family: I wish you the very best. To everyone else, have a Happy Monday!
Image via AP Photo/Wade Payne
For more information on Adoption, check out these articles.
What do you think? Adopting Daniel After 36 Trips to Guatemala: One Family's Amazing Story
More to learn
more to love