Baby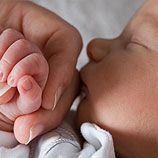 Your baby's first year is a whirlwind of changes and challenges. As the months pass, you might wonder which milestones are approaching and how you can support your child's development. If you have questions on the topics of feeding, sleeping, or safety - among other things - a great place to begin is browsing the topics below. Be sure to visit the forums for even more great information from parents like you!
Don't forget to share with everyone how your special someone arrived into this world in our Birth Stories forum!
Poll
What do you think about the idea of infant potty training?
Editor's Picks
Breastfeeding 101 Although women have been breastfeeding for hundreds of years, you may feel overwhelmed by the idea of it. Check out this article for tips and advice.

Baby's Sleeping Guidelines How do you know if your little one is getting enough sleep? Here are a few guidelines to help you out!

Interviewing Your Nanny or Babysitter It is crucial that you find someone you trust to take care of your child. And it can be nerve-wracking to interview potential caregivers! Here's a list of questions you may find helpful.

Development
Nutrition & Feeding
Sleep Solutions
Baby Health & Safety
Post-Pregnancy Life
Baby Gear
Preemies & Multiples
Home > Baby